Why you may need a new headshot
tl;dr The headshot you use for your website or LinkedIn or other social media is important. Your headshot says a lot about you. You may need to rethink your headshot.
Your headshot is likely the first way people see you on your website and social media profiles. If your headshot is classic — you against a plain background — it may be time to get your headshot retaken. And reimagined.
If you want to stand out, reflect your brand and make visitors look twice before scrolling down the page, a new headshot may be what you want and need.
Will a new headshot increase your web traffic or social media engagement? The answer is "maybe." Do you ski, hike, cook or paint? A photo with your talent showcased might appeal to particular visitors. Think about a formal, casual, action or creative headshot before you schedule that session with your photographer.
Your headshot doesn't always have to be only your head.
Stay up-to-date
We dress, talk and act differently as styles change. Many websites are undergoing redesigsn to reflect new trends. Minimalist website design is increasingly popular, and it can be a great way to appeal to potential younger customers like GenZers. A creative headshot (is your pet dog photogenic?) can help you look memorable and professional, while also making a different kind of connection with visitors.
One headshot vs headshot options
Who said you can have only one headshot? When you schedule with a photographer, bring different outfits and perhaps some gear — or maybe your dog (if she's the non-biting type). When you choose the one to use on your website, select more than one. Change it from time to time. Mr. Google notices when there are changes on your website, so it's an easy way to "kick" the search engine spider.
Let's talk to a headshot photographer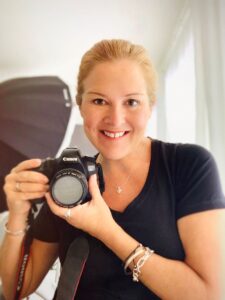 Let's see what a professional photographer has to say about trends in business headshots. Meet Angela Kerr, with Angela Kerr Photography.
What is the biggest trend in headshot photography?
The current trend is a headshot that speaks to your target audience. Anything goes but it needs to stay true to your industry. So be sure you know your target audience. A dark solid background might work best for an executive leader while a bright outdoor background suits a yoga instructor.
Who should rethink their current headshots?
Definitely people in leadership roles, influencers and business owners. You must put your best face forward and make a good first impression. Your headshot should convey that you are confident, approachable and excellent at your job. Keeping your headshot current also says you care about your social presence and how you look online.
Do you think creative headshots, like the ones that show hobbies or sports or even your pet dog are right for your business or social media accounts?
Creative headshots can be great to attract certain audience segments. Just keep in mind the image should focus on the individual the most. It is called a headshot for a reason.
What kind of outfits should people bring for their headshot session?
I always encourage clients to bring at least three outfits to their session. Solids, v-necks and saturated colors are what I recommend. Covered arms and layering with a jacket are two styles that work well. Sometimes a client has already established a certain fashion style or color palette that needs to stay consistent to their brand.
Do you think headshots should be taken in a studio or perhaps outdoors or in the person's office?
I think that depends on the client's preference and the look they want to achieve for their headshot. Hiring the right photographer experienced with natural or studio light in any location is key. Providing a comfortable setting for the session is important.
Do you have any hints for people who want to retake their headshots?
Always look at a photographer's portfolio before scheduling your session.
Examples of Angela Kerr's Headshot Photography (more on her website)