How to start a podcast for free
tl;dr – There's a lot to do when you start podcasting and many personal rewards. Learn how to start a podcast for free.
How to Start a Podcast for Free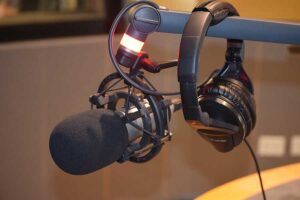 How can you start a podcast for free? You need equipment, editing skills and hosting. Grow it and you may get advertisers. Do not spend a lot of money up front because only a few podcasters actually 'make a living' with their shows. Start small and slow, then take measured growth steps. The tips below show you how to start a free podcast. There are suggestions for growing your audience.
Get Me Online helps get new podcasters started with low-cost tools, audio editing and podcast hosting. We'll show you how to start a podcast for free.
1 – Planning Your Podcast
2 – Recording and Publishing Your Podcast
3 – How to grow your podcast audience
There are three ways to grow your podcast audience.
ONE Record quality, interesting podcasts that a group of people want to hear. Make sure you have an intriguing description for your podcast that includes who you are, what the podcast is for and what the listener will get out of the podcast.
TWO Advertise your podcast by building a website and maybe add a blog to refer your listeners to, perhaps to complete a survey after each podcast. Have good episode titles with keywords that can be searched.
THREE Submit your show to podcast directories. Use this list to get started. Apple Podcasts and Spotify are the most common, but there are several you can use for a wider reach. Remember, you add your RSS feed to podcast directories, so be sure you have a podcast host with an RSS feed.